Welcome to the housing and apartment guide for Ohio State University! Located in Columbus, Ohio's largest city, the university is home to one of the largest off-campus populations in the U.S. But despite it's size, the area around Ohio State loses little of its university community.
Such a large off-campus population comes with pro's and cons. Housing can be found extending out from almost every side of Ohio State. This means that no matter where your classes, you can likely find a place within walking distance (as long as you don't mind a short jaunt). At the same time this means you and your friends could have quite the hike between your respective apartments.
OSU Off-Campus Housing
Tips & Tricks
The search for large units (5+), especially those closest to campus, begins early in the fall. September and October early. If you're searching with a smaller group there will still be options available a bit later. See off-campus timeline below for a more specific breakdown.
The bus system runs regularly. If price is a significant component in your decision, you may consider living a bit further from campus on a bus line. See the OSU bus map with more details here.
Different areas have very distinctive atmospheres. It never hurts to knock on some doors and ask people about noise levels or safety. Also, you can take a look at our OSU neighborhood guide for a general overview of different regions around campus.
If you're interested in a house, many times it's easiest to simply go ahead and knock on the door and ask for a brief tour of the inside. This saves you the time of scheduling through the landlord. Generally people are pretty accommodating, and if not, you can just go through the landlord as you would have originally.
OSU Off-Campus Housing by the #s
1 Bedroom Median Rent: $750
2 Bedroom (2 bath) Median Rent: $1400
4 Bedroom (2 bath) Median Rent: $1976
Most Common Bedroom #: 1-Bed

*Source : http://thelantern.com/2014/03/housing-prices-around-ohio-states-campus/
Important Housing Dates
Roommate Fairs
Time: Friday, July 10, 2015 5:00 PM - 6:00 PM
Time: Friday, August 07, 2015 5:00 PM - 6:00 PM
Time: Friday, March 04, 2016 5:00 PM - 6:00 PM
Time: Friday, April 08, 2016 5:00 PM - 6:00 PM
Location: 1000 Ohio Union
Student Life's Neighborhood Services and Collaboration holds two Roommate Fairs each semester to provide students an opportunity to meet potential roommates face-to-face in a safe, informal setting. You are required to present your student ID upon entrance to the event. More Details
Off-Campus Housing Fair
Time: Friday, October 02, 2015 10:00 AM - 5:00 PM
Location: Ohio Union Performance Hall
Student Life's Neighborhood Services and Collaboration and Off-Campus and Commuter Student Engagement are gearing up for the first annual Off-Campus Living and Safety Fair! This is a one-stop-shop in terms of off-campus housing, living and safety information. More Details. (sounds a bit like Cribspot)
General Off-Campus Housing Timeline
September - November: Many 4+ houses close to campus lease. Almost all 6+ bedroom houses close to OSU lease up.

December - March: You can still expect there to be a pretty good selection of houses and apartments around OSU available. You may begin having a little more trouble finding good 4+ person houses. Most apartments, with a few exceptions, should still have openings.

April - July: There will be many apartments with 1-2 bedroom units available, especially a short commute from campus. Smaller landlords with houses close to campus will also sometimes wait until this period to post, with an interest in leasing to graduate students. However, selection for 4+ person houses close to campus will be extremely limited, and many of the most popular apartments will no longer have availability.
OSU Subletting
With spring rains come a flood of sublets, inundating the housing market with short-term rentals. Some pieces of advice when it comes to your off-campus sublet: First, post early as many people procrastinate until the weeks immediately before summer break. Second, put in the work to make a nice sublet description and take photos. Your 1-bedroom apartment on Lane isn't unique, and you're going to need all the help you can get finding that subtenant. A few minutes to spice up your posting can really pay off.
OSU Subletting by the #'s
Sublets average price: $687.52/Room
Average beds in sublet: 1.60 Beds
Most common bedroom #: 1-Bed
Most popular month for posting sublets: April
How People Describe Their OSU Sublet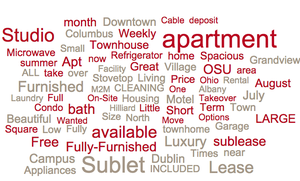 Popular Off-Campus Landlords
We're located in Columbus, Ohio with apartment rentals in historic Olde Towne East, King-Lincoln District, Woodland Park, German Village and Marble Cliff/Grandview. Most of our apartments are just minutes from downtown.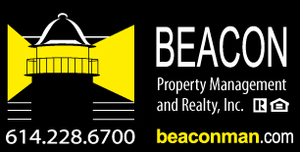 Since 1991, Beacon Property Management and Realty, Inc has been specializing in management services for individual homes and entire apartment projects alike. Beacon manages over 1,000 units of all types of Real Estate including: Residential, Commercial, Condominium Associations, Project sites, Vacant Land & Tax Credits and HUD properties. Our experienced Maintenance Staff and Licensed Brokers and Agents make Beacon the right choice for Property Management.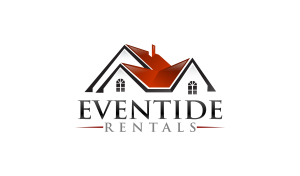 Eventide North Campus Properties, just two blocks north of the campus, is conveniently located very near the Fisher College of Business and the College of Engineering Department. While many of our tenants are OSU students and graduates …. some attend Columbus State and Columbus College of Art and Design. We welcome students, faculty, and employees from all over metro Columbus.
Not only are the properties conveniently located to OSU and destinations downtown, they are also charming with hardwood floors, transams, ornate woodwork and generous backyards. The Eventide properties constitute a truly one-of-a-kind unique community, situated on High Street, West Oakland Avenue and West Northwood Avenue.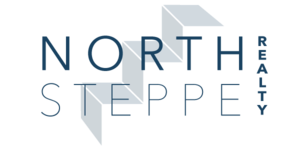 Our company was founded in 1986, and since then we have established a community of student-based patrons throughout the OSU campus area. Over the years, our property count has spread to almost every reach of the campus area, providing students with many options for housing that are flexible to their regions of study. We are a small staff of people who work each day to take care of your issues and needs, and our maintenance staff has been acclaimed for speedy service. Tenants can talk to the right people for the job every time. Our friendly leasing staff is there for you all year long, and they are looking forward to spending each lease term with our valued residents. You will not find a better company to rent from, so give us a call today with any questions or comments!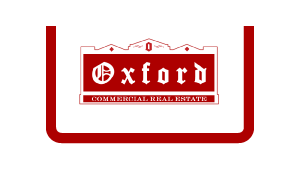 Oxford Rentals Co. manages apartments and houses located directly across from the Ohio State University. Please contact our office at (614)299-2897 to schedule showings. Please do not disturb our tenants. It is our company policy for all apartment showings to be done thru our office. Our locations are mainly situated between Indianola and High Street and 12th and Norwich.
We are one of the oldest landlords in the University District and take pride in the reputation we have built over this time. Each year around 50% of our current tenants return or transfer to another one of our units.
Find a collection of more than 80 local landlords and apartments on Cribspot.