Rutgers University is known as one of the top universities for research and is the eighth oldest institution in the United States. This university is almost split 50/50 between men and women, which is pretty unique. What's also unique is that Rutgers University is split between three cities in New Jersey: Rutgers University-New Brunswick, Rutgers University-Newmark and Rutgers University-Camden. All three universities combined have 32 schools and colleges. Not to mention, the New Brunswick campus has over 40,000 students enrolled with Newark right behind it with 11,000 students. The college town of New Brunswick is known for its delicious eateries and Halloween parties that take place off campus. The college experience is gained if you live at any of the RU off-campus housing locations.
RU Off-Campus Housing Facts
Tips and Tricks
At RU New Brunswick, about 50 percent of the student population out of 48,378 people chooses RU off-campus housing. So, it's not uncommon to hear a fellow classmate talk about how lovely their life is their brand new apartment (US News).
Currently there are no RU off-campus housing fairs, but that shouldn't stop you from looking on your own. Believe it or not, it's fun to go shopping for apartment near RU. Definitely, apartments near RU.
Most students start looking for apartments near any RU locations about 2-6 months before school starts, but it's totally fine if you want to start looking earlier because people tend to spit out those down payments like nobody's business in a blink of an eye.
Remember the closer you are to the campus, the more money you will have to fork out. So reconsider that apartment you found that you thought was too far from the campus. It will be well worth the sore feet.
Tips for Rutgers University Off-Campus Housing
It's a great feeling to finally sign off on your first RU off-campus housing crib. But before all that, remember that the more people you live with, the less you will have to pay for your portion of the rent. You're probably thinking, "What about my freedom?" Well, technically you still have it; you just share it with a few more amazing people. Actually, most college students room with other people; it's the norm and you don't want to be a square, right? So go for it. For apartments near RU rent can range from $500 to a little over $1000, so contacting your former dorm buddies would be a lovely idea. Houses for rent in New Brunswick and Newark run for around the same price. Either way, your experience will be well worth it.
Camden is not the safest neighborhood, so please keep in mind if your apartment is far from campus. To take a few precatiouns when considering your travels back to your lovely abode and get a ride from a friend or park your car on campus. For students living in Newark, keep in mind that some apartments offer shuttle services to take you to and from campus.
All Rutgers University campus locations have a bike share program for students who live off campus. It cost about $25 a semester (super cheap) and its first come first serve, so you have to act on it quickly. So make moves and get your name on the list so you can save money, get in shape, and help out the environment. Rutgers shuttles take you around the campus and drop students off near their Rutgers University off-campus housing. Most students walk to campus if their apartments aren't that far. Public Transportation, like the bus, is also an option if your apartment is in another nearby neighborhood.
Rutgers University is a huge college, so there are tons of current listings for RU off campus housing on Cribspot. More students means more houses means more of a need for parking, so you already know you have to be on top of your game when it comes to your parking situation. To avoid having a crazy parking situation, look for houses for rent in Camden or any location that provides a driveway or a wide enough street to accommodate your parking.
When it comes to late night study sessions, sometimes the perfect fix of fastfood is all you need to power you through 20 chapters of physics. There are a bunch of fast food places you can indulge in around RUC like Taco Loco, Tasty Fried Chicken, Subway, McDonalds, Kentucky Fried Chicken and Crown Fried Chicken. If you're more about impressing your housemates with home-cooked meals, check out the local grocery stores where you can buy more than just Ramen Noodles. Signing up for a meal plan is another option for you google calendar dependent students.
RU Subletting
If you're looking to save some cash in the months you're not staying in you apartment near RU, subletting is perfect for you because it's a great way to not get locked in by a lease. And it's also a great way to cut all ties with your former roommates if they turned out to be anything like the girl from The Roommate.
RU Subletting by the #'s
Sublet average price: $714.58/Room
Average beds in sublet: 1.7 Beds
Most common bedroom #: 1-Bed
Most popular month for posting sublets: April
How People Describe Their RU Sublet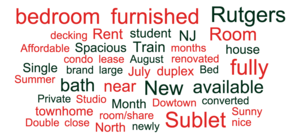 Popular RU Landlords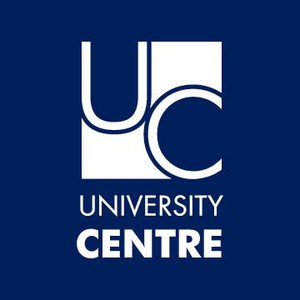 Address: 250 Central Ave Newark, New Jersey 07103 USA
Live like you mean it at University Centre, the best in Newark student living! At University Centre you will have the privacy and lifestyle you deserve in an off-campus student community that is built specifically with you, the college student, in mind. Take advantage of our convenient location and unmatched amenities—everything you want and need in one place makes University Centre the best in college apartments!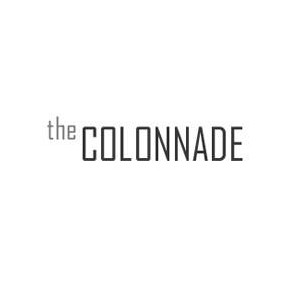 Address: 25 Clifton Avenue Newark, NJ 07104
Spacious, affordable luxury high rise apartment homes designed by world famous architect Mies van der Rohe are available at Colonnade Apartments in Newark, New Jersey. We feature easy access to Seton Hall Law School, Rutgers University, Kaplan University, Essex College, NJIT, UNDMJ, and Berkley College. Our ideal location also gives you easy access to New York City via bus or NJ Transit, and NJPAC and the famous Iron Bound Section are nearby. Living in Newark just doesn't get any better than this! With seven impressive floor plans to choose from, Colonnade Apartments provides you with all of the amenities that will make you feel at home from the moment you walk in. Our spacious apartment homes come with fully-appointed amenities including a gourmet kitchen, pantry, floor to ceiling windows, spacious walk-in closets, and more!

Address: 1 Richmond Street New Brunswick, New Jersey 08901
Modern refinement meets traditional charm at Plaza Square Apartments in New Brunswick. Just a stroll away is the rich array of upscale restaurants, bustling cafes, colorful nightlife and diverse retail shops that bring this historic city to life. Take advantage of the local theater, art galleries and jazz scene, along with headliner entertainment and championship sports – all within walking distance. Nature lovers will cherish the verdant parklands and riverbanks for morning jog, ambling walks and quiet picnics.

Address: 12 Bartlett St New Brunswick, NJ 08558
RU Living is a provider of premium off-campus housing in New Brunswick, NJ, created by a team that include Rutgers alumni who remember what it was like to live off campus. That's why they work so hard to ensure you get the best properties... They get it!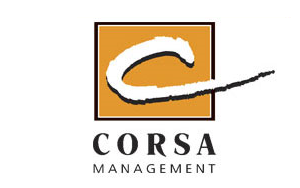 Address: South Orange, NJ 07079
Corsa Management was founded in 1978 and has grown over the years to where we are now responsible for the apartment homes of about 3,000 families in New Jersey, Lower Bucks County in Pennsylvania, and Rockland County in New York State. When the company started, our specialty was to turn around apartment properties that had been neglected and poorly managed. We did whatever was necessary to improve them; this allowed us to rent to better tenants, who helped us take better care of our properties. This, in turn, has improved the communities where our properties are located.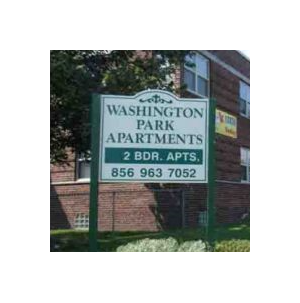 Address: 219B South 29th St Camden, New Jersey 08105
Welcome to Washington Park Apartments. Ideally located, Ideally priced. In fact, everything at Washington Park Apartments is ideal. From the well cared for landscaping outside to the attractive, comfortable two-bedroom garden style apartments inside. You'll enjoy the comfort of your own individual heating unit and your own gas hot water heater. You'll be close to all schools and many transportation routes. All this plus reasonable rent makes Washington Park the best value in the area.
Find a collection of more than 80 local landlords and apartments on Cribspot.