The University of Tennessee (known to most Tennesseans as "UT" or "UTK") is the state's largest university, attracting students from all over the country, and even the world! While living on campus is an integral part of the "Vol" experience, many students choose to explore off-campus housing options upon becoming upper classmen. Some do it to find a quieter place to study, while others are simply looking for a more independent living experience. Either way, knowing where to start is important, especially in a city like Knoxville, where both on and off campus housing is always in high demand.
UTK Off-Campus Housing
Tips and Tricks
The University of Tennessee is home to a little over 21,000 undergraduate students and about 9,000 graduate students. Only about 37% of these 30,000 students choose to live on-campus (Source: US News).
While the search for UTK Off-Campus Housing can be quite competitive, there are always people looking to rent to UT students in and around Knoxville.
UTK Off-Campus Housing is available for both 12-month and school year only options.
While there is no off-campus housing fair at this time, there are always apartments near UTK and houses for rent in Knoxville in walking distance from the main campus.
Some students who have their own transportation even opt into living further than most people from campus to save both money and the headache of competing for prime apartments near UTK.
Tips for Finding Off-Campus Housing in Knoxville
While most things in Knoxville revolve around UT, it can be quite easy to find yourself living somewhere off the beaten path, or somewhere that's a little less than convenient for your daily commute to school. Knoxville's public transit system (the KAT) is available, but doesn't offer the convenience of a car, or living close to everything you may need. Inclement weather should also be a consideration when searching for UTK Off-Campus Housing, as Knoxville isn't as snow savvy as other larger cities.
There are a fair number of apartments near UTK, but the cost will be greater, compared to places a little further. Having roommates would be necessary for most students to lower the cost of housing, but this should also be considered a great way to meet new people! Living off-campus (but close) might be the best option for those looking for more of a traditional UT experience, but be sure to keep the higher cost in mind. Living a little further will save money on rent, but travel costs have to be considered in this as well.
After distance and pricing, daily life has to be considered. Businesses and services like grocery stores, restaurants, and even barber shops can all be found conveniently for those living on or near campus, but this is not the case for all parts of town. Any area of Knoxville can offer anything a student may need if he owns a car, but there's nothing wrong with the convenience of having your favorites just around the corner when searing for UTK housing.
Many students who graduate from UTK end up finding jobs in Knoxville and living there permanently, so finding houses for rent in Knoxville can be a great way to learn the city from a non-student perspective in preparation for life after graduation.
Be sure and search for UTK Off-Campus Housing early (late May-mid July) to guarantee the most ideal spots. Housing can be found year round, but the most coveted places are claimed very quickly!
UTK Subletting
During the summer, it's pretty common for students to sublet their UTK off-campus housing. Sublets can also become available from students who graduate before the end of their leases. Either way, subletting can be a great way to test out UTK off-campus housing for a shorter amount of time, as well as saving your place if you want to go out of town during an extended break. It's always important to make sure that the person you sublet from has the right to offer a sublet (check the lease) and that you have specific parameters set as far as the length of the sublet.
UTK Subletting by the #'s
Sublets average price: $613.53/Room
Average beds in sublet: 2.00 Beds
Most common bedroom #: 1-Bed
Most popular month for posting sublets: April
How People Describe Their UTK Sublet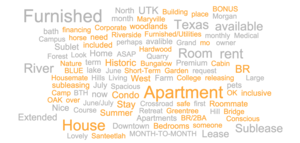 Popular Off-Campus Landlords
Address: 301 Lippencott Street
We want your college student to be successful throughout their career at The University of Tennessee and Pellissippi State Community college. Gateway at Knoxville meets every need that your student will have while in college so they can achieve what they came here for in an enjoyable atmosphere.

Address: 1640 Grand Avenue, Suite 1101
On the hunt for the best off-campus student apartments in Knoxville? At The Commons at Knoxville, you'll find a variety of floor plans, several amenities, proximity to The University of Tennessee, a thriving resident community, and much more. All that's missing is you!

Address: 901 Mountcastle Street
Just steps from the UT campus, Evolve Apartments offers modern, brand new, fully furnished units making it the best student living choice in Knoxville.

Address: 525 W. Morris Blvd., Suite B, Morristown TN 37813
We still have a few extra nice condos available for August lease start dates. Check out our listings now in The Fort, near the Ag Campus and other walk to class locations. Find just the right place with amenities like pool, parking off-street and gated security.
Find a collection of more than 80 local landlords and apartments on Cribspot.