Planned by the man we know and love from studying American History at least 6 times in school; UVA was designed by Thomas Jefferson and has grown to house more than just the great names of textbooks past. Here you can find the prepster of UVA, kindle in one hand and red solo cup in the other. This fine balance between hard work and hard play is established by the prominent Greek Life on campus and traditions kept alive by the Lawn livers. Still on that waitlist to live on the Lawn? Make moves into the UVA off campus housing world and follow these helpful tips.
UVA Off-campus Housing Facts
With around 23,400 students taking classes on the beautiful campus of UVA, undergrad and grad students alike choose to live off campus at some point in their college career because of the added perks of abiding to your own household rules. Let freedom ring! (Source: US News)
At the start of your freshman year, the race to find UVA off campus housing for next year might be just as overwhelming as the opening minute of Black Friday at Sears. Stay calm and start your search early October through November. There are plenty of places to choose from then.
Currently, no University of Virginia Off Campus Housing Fair is scheduled for the school year but stay tuned! Keep checking back on Cribspot or just keep refreshing this blog post page. Could work.
Tips for University of Virginia Off-Campus Housing
Most everyone understands the UVA off campus housing rush to find apartments and houses near UVA, so make sure you're not left with a less-colonial looking shack outside the radius of parties and people, for that matter, and start your search in October or November. Still, you can find some places to sign onto in the later months leading up to December.
Not seeing anything in your budget? Afraid you'll be drowning in college debt forever? Try doubling up in rooms to cut down rent costs. Although some rooms may be a tight squeeze, you'll always have someone to call your Thunder buddy when storms hit late at night.
If you're looking to experience the natural charm of Charlottesville to its full potential, definitely make the move to get a car, so you and your housemates can go hiking and pick apples. All of this sounds too outdoorsy for you? D.C. is only a 2 hour drive away from the general UVA off campus housing area.
Party goers and double fisters, listen up. You're going to want to live by Rugby Road and the UVA Corner, which are both generally north of the main campus. Bookworms and meditation-lovers: aim for UVA off campus housing areas south of Jefferson Park Ave.
Local Subletting
Although Charlottesville gets even more beautiful heading into the summer, your plans to go sailing and snorkel in the Bahamas clash with the hefty cost of paying for a 12-month lease. All that money you spent on a fresh pair of Sperrys doesn't help either. The solution to your financial woes: sublet your UVA off campus housing listing!
UVA Subletting by the #s:
Sublets average price: $559.88/Room
Average beds in sublet: 1.76 Beds
Most common bedroom #: 1-Bed
Most popular month for posting sublets: April
How People are Describing Their Sublets: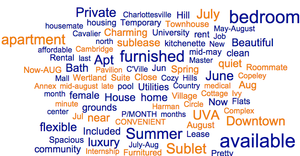 General Tips for UVA Subletting:
Aim to have your summer UVA sublet up a bit in advance to the start of the long summer spell as the people looking for your place will probably want to finalize their plans in advance as well. Aim to have it up by April.
When posting your apartment or house near UVA to Cribspot (https://www.cribspot.com/search/virginia/post), make sure to add photos of the outside and inside so potential buyers know what they're getting! Don't be shy about complimenting your lovely abode and write up some of your places quarks, like a charming fireplace perfect for wintertime s'mores.
Property Managers in Charlottesville

Address: 780 Madison Avenue
MSC has been providing rental housing to the UVA population and Charlottesville, VA community since 1972. Our inventory of apartments, houses, townhomes, and duplexes for rent is the largest in Charlottesville and Central Virginia. We're sure to have something that will fit your wants and needs. Browse our inventory to find an apartment in the location you need with the amenities you want. Once you've found your perfect home, complete an online application and we will email you a lease!

Address: 224 14th Street NW
Woodard Properties offers a variety of Charlottesville apartments and housing for University of Virginia students, faculty, staff, and members of the Charlottesville community. Whether you are looking for a UVA apartment or house for rent, we are sure to have something that meets your needs.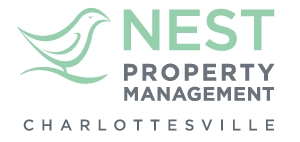 Address: 126 Garrett Street, Suite D
Nest Property Management is a product of Nest Realty, one of the most respected real estate firms in Central Virginia. We took everything that has made Nest Realty such a success and launched Nest Property Management. Property owners and renters can now experience Nest's knowledgeable team, our passion, and the difference a dedicated team that truly cares about you and your needs can make.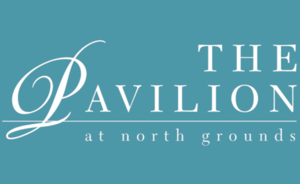 Address: 2101 Arlington Boulevard
Our spacious student apartments in Charlottesville, VA come with everything you need to make this your home. Close by is The Barracks Road Shopping Center, the University of Virginia Law School, the Darden School of Business, Downtown and the Scott Stadium. Our fully furnished apartments come with spacious walk-in closets, washer & dryer and stylish finishes. Your rent includes complimentary Internet, cable with HBO and water & sewer. Take a tour today and see why The Pavilion at North Grounds.

Address: 100 Wahoo Way
Live like you mean it at Cavalier Crossing, the best in Charlottesville student living! At Cavalier Crossing you will have the privacy and lifestyle you deserve in an off campus student community that is built specifically with you, the college student, in mind.
For more landlords and off-campus properties, head on over to the main Cribspot search.